You Will Remember Me Saturday June 6 2020 at 8:00 PM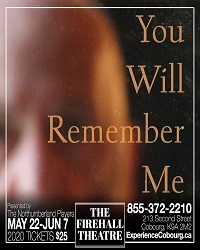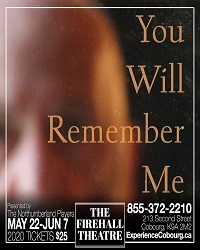 You've selected
Saturday June 6 2020 at 8:00 PM
Change Date
×
You will Remember Me by François Archambault ,translated by Bobby Theodore
Directed by Brenda Worsnop Produced by Laura Garton and Marg Hilborn
Memory and family are central themes in this moving drama by one of Quebec's most dynamic voices, Governor General's Award-winning playwright François Archambault. The play portrays a family whose aging patriarch – a university professor, long-time sovereigntist and intellectual force – is in the early stages of dementia. With humour, love, and compassion, each family member reacts in their own way to the challenges of creating room in their lives for his care. A powerful drama that raises broader questions of the role memory plays in all our lives.
Firehall Theatre,Cobourg
May 22, 23, 29, 30 June 4, 5, 6 at 8:00 p.m. May 24, 30, 31, June 7 at 2:00 p.m.
Tickets $25 (All Incl.) Call 905 372-2210 or 1-855-372-2210 Or purchase online at www.experiencecobourg.ca
Venue
Firehall Theatre
213 Second St.,
Cobourg Ontario K9A 2M2
×
This is a festival seating performance - the seats are on a first come, first serve basis when you arrive at the theatre.
Doors open 1/2 hour prior to start of performance.