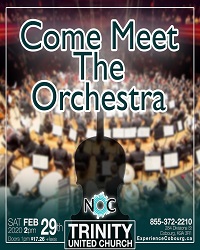 Come Meet the Orchestra!
When
Occurs on Saturday February 29 2020
Approximate running time: 2 hours
Venue
Performance Notes
×
Come Meet the Orchestra! - February 29, 2020 2 p.m. You will not believe your eyes - or your ears! The NOrthumberland Orchestra and Choir welcomes a group of talented youth to center stage in our Family Concert. Come Meet the Orchestra! This hour-long program will feature former LJYO concert master Miguel Esteban, former LJYO and NOC principal horm Lucy Nesbitt and two more young soloists performing with the NOC. Music lovers young and old will get the chance to meet the soloists and try our their favourite instruments after the concert.