Elton Rohn New Year's Eve Tuesday December 31 2019 at 8:00 PM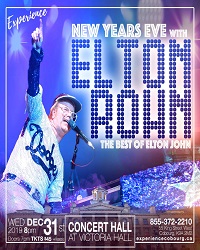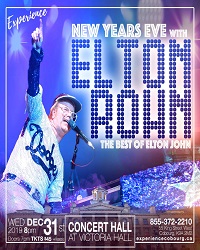 You've selected
Tuesday December 31 2019 at 8:00 PM
×
NEW YEARS EVE with ELTON ROHN - The Best of Elton John Tues DEC 31, 2019 8PM, Doors at 7pm TKTS: $45 + fees
The world's most popular Elton John Tribute takes the stage on New Years Eve at the Concert Hall at Victoria Hall in Cobourg.
ABOUT THE ARTIST Elton Rohn has been thrilling audiences across Canada and the USA… along with Sir Elton himself for many years! As Elton Rohn, Ron Camilleri's ability to transform into Elton John is absolutely uncanny. Audiences are amazed - it's like seeing a 1970's Elton John concert LIVE! His band is made up of some of Canada's finest musicians, and every note is played live. Elton Rohn has headlined over 250 shows including major festivals across Canada and the USA but most notably Las Vegas, where they were the only Elton John tribute asked to play the Elton John convention.
New Years Eve is the PERFECT occasion to party with ELTON ROHN and the iconic music of this legendary performer re-created by the best in the business!
ABOUT THE VENUE This unforgettable concert will be presented in the beautiful and historic Concert Hall at Victoria Hall
EXPERIENCE COBOURG All ticket holders are encouraged to come early and show their tickets on the day of the event at participating shops and restaurants in Downtown Cobourg to receive a special discount! Enjoy the history and beauty of Cobourg from the beach to the Marina to King Street and beyond. There is so much to do to enhance your visit and make it your destination of choice for quality entertainment and a complete "experience"
EMBED VIDEO: https://www.youtube.com/watch?v=csCA-rlZq4Y
Venue
The Concert Hall At Victoria Hall
55 King St. W.
Cobourg Ontario K9A 2M2
×
This is a festival seating performance - the seats are on a first come, first serve basis when you arrive at the theatre.
Doors open 1/2 hour prior to start of performance.