Dave Young/Terry Promane Jazz Octet Saturday, October 15, 2022 at 7:00 PM EDT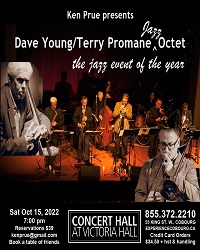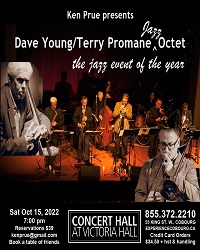 You've selected
Saturday, October 15, 2022 at 7:00 PM EDT
×
Dave Young/Terry Promane Jazz Octet
Date: October 15th 2022 Tickets: $34.50 plus hst and handling Venue: Concert Hall at Victoria Hall Time: 7:00 pm
The Dave Young/Terry Promane Jazz Octet is a Big Band All-Star lineup of Canadian jazz musicians that embodies what many call "The Toronto Sound": well crafted, uniquely voiced arrangements, distinctly Canadian musical sensibility, impeccable tuning, flawless execution, a wall of saxophones, world-class solos. Octet co-leader Dave Young is one of Canada's most valuable and beloved musical exports – named to the Order of Canada in 2007. Whether performing as part of a symphony orchestra, as an integral member of an iconic jazz ensemble (with the likes of Lenny Breau and the late Oscar Peterson), or as the leader of one of his own dynamic units, Dave remains a total musician, with artistic soul in abundance. As a jazz artist, he is a chameleon-like bassist, who shines brightest in collaborative efforts with other top musicians. Because of his technical skill, few bassists (jazz or otherwise) are able to dig in, swing hard and still render a lyrical arco solo the way Dave can. Sharing the Octet helm is Terry Promane: Associate Professor and Coordinator of Jazz Studies at the University Toronto, the Director of "The Jazz Camp" at the Interprovincial Music Camp (IMC), and an in-demand freelance trombonist and tubaist. Terry was an original member of The Rob McConnell Tentet and currently appears with numerous Toronto-based groups, ranging from The Mike Murley Septet to the newly formed Davidson/Carn 9 (D/C 9). The other distinguished members of The Dave Young/Terry Promane Octet are Kevin Turcotte (trumpet/flugelhorn), Vern Dorge (alto saxophone), Mike Murley (tenor saxophone), Perry White (baritone saxophone), Brian Dickenson (piano) and Terry Clarke (drums). Seating at this concert is a hybrid of cabaret tables and theatre-chair rows. A cash bar is offered in the adjacent Citizen's Forum. Victoria Hall, with its 35 foot ceiling, is exceptionally well-ventilated and serviced by two elevators and four spacious washrooms. Tickets are $34.50 + HST and handling. For convenience tickets can be purchased from kenprue@gmail.com and from the Experience Cobourg Box Office at 855-372-2210 or on-line at ExperienceCobourg.ca.
Venue
The Concert Hall At Victoria Hall
55 King St. W.
Cobourg Ontario K9A 2M2
×
This is a festival seating performance - the seats are on a first come, first serve basis when you arrive at the theatre.
Doors open 1/2 hour prior to start of performance.