Nick Maclean Quartet- Feat. Brownman Ali Sunday, September 11, 2022 at 3:00 PM EDT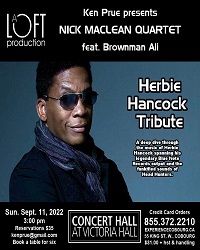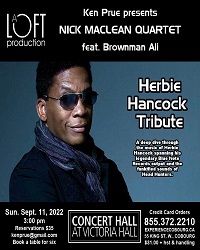 You've selected
Sunday, September 11, 2022 at 3:00 PM EDT
×
Herbert Jeffrey "Herbie" Hancock has long been considered one of the greatest visionaries in the history of jazz as both pianist and composer. As part of Miles Davis's Second Great Quintet, Hancock helped to redefine the role of the rhythm section in modern jazz art, was one of the primary architects of the "post-bop" sound, and was one of the first jazz musicians to embrace music synthesizers and funk music. Led by the highly in demand pianist and composer NICK MACLEAN - called "A rising star in the Canadian jazz community" (Globe & Mail), winner of 8 Gold Global Music Awards and a Toronto Independent Music Award - the Nick Maclean Quartet pays tribute to this legendary artist. The group features "Canada's preeminent jazz trumpet player" (NYC Village Voice) and Randy Brecker protege, BROWNMAN ALI, winner of multiple National Jazz Awards, the Montreal Grand Prix du Jazz, and countless other awards and accolades. Maclean and Ali, stand shoulder to shoulder with two of Toronto's top 20 something jazz musicians - BEN DUFF on bass and MATEO MANCUSO on drums - and the group will explore Hancock material over 2 sets: the first set featuring music from Hancock's tenure with Miles and his time on Blue Note Records, while the second set delves into Herbie's funkified sounds from his group Head Hunters.
BONUS: As a sneak peek -- here's the tune list of what the ensemble is planning on playing this night : - Driftin (Takin' Off - 1962) - The Maze (Takin' Off - 1962) - And What If I don't (My Point Of View - 1963) - Eye Of the Hurricane (Maiden Voyage - 1965) - Maiden Voyage (Maiden Voyage - 1965) - Lil One (Maiden Voyage - 1965) - Dolphin Dance (Maiden Voyage - 1965) - Oliloqui Valley (Empyrean Isles - 1964) - One Finger Snap (Empyrean Isles - 1964) - Cantaloupe Island (Empyrean Isles - 1964) - The Sorcerer (Speak Like a Child - 1968) - Tell Me A Bedtime Story (Fat Albert Rotunda - 1969) - Watermelon Man (Takin' Off - 1962, Head Hunters - '73) - Chameleon (Head Hunters - 1973) - Butterfly (Thrust - 1974)
Venue
The Concert Hall At Victoria Hall
55 King St. W.
Cobourg Ontario K9A 2M2
×
This is a festival seating performance - the seats are on a first come, first serve basis when you arrive at the theatre.
Doors open 1/2 hour prior to start of performance.