Elizabeth Shepherd Band in Concert Saturday, April 29, 2023 at 7:00 PM EDT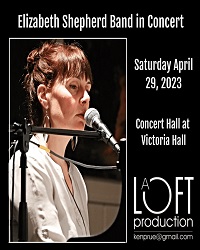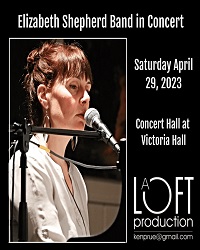 You've selected
Saturday, April 29, 2023 at 7:00 PM EDT
×
Ken Prue-A Loft Production presents: Elizabeth Shepherd Band in Concert
Concert Hall at Victoria Hall
Saturday, April 29 at 7:00 PM
Tickets $39 + hst & service fee
Band: Elizabeth Shepherd - Bandleader / vocals, piano Bass - Scott Kemp Drums - Kevin Warren Guitar - Michael Occhipinti Backup vocals - Yvette Tollar Keyboards - Jerome Beaulieu
Velvety-voiced keyboardist Elizabeth Shepherd arrived on the international jazz scene in 2006 when her debut album Start To Move was voted one of the top albums of the year by the listeners of the influential Gilles Peterson Show on BBC Radio Worldwide. Since then, the Montreal-based soul-jazz innovator has established herself as one of the most alluring and imaginative artists on the scene today.
Elizabeth has been hailed as "a jazz virtuoso blessed with a pop sensibility", praised by critics worldwide for her arrestingly original writing and soulful delivery. Alongside Esperanza Spalding and Robert Glasper, she is among the new wave of jazz-influenced musicians bringing the art form to a younger generation of music fans.
The six-time JUNO nominee and two-time Polaris-Prize nominee has released seven widely acclaimed records, featuring collaborations with the likes of guitarist Lionel Loueke, bassist Jasper Hoiby, and UK producer Nostalgia 77. She has toured extensively in North America, Europe, Japan and Mexico, sharing the stage with such diverse acts as Christian MacBride, Branford Marsalis, Spankie Wilson, Victor Wooten, the Quantic Soul Orchestra, Bonobo, The Five Corners Quintet, and Jamie Cullum.
About the project: For her 8th album, Elizabeth Shepherd has created a collection of 10 songs, bringing together soulful jazz and synth-based electronica. Penned during lockdown, "Three Things" is an ode to life, joy and resilience, and features her 6-piece band. It will be coming out in 2023 (Canada) / 2024 (EU / Japan).
To hear some of the new tunes: https://elizabethshepherd.com/elizabeth-shepherd-epk
What the music press has written:
"Wholly unique and unclassifiable style that blurs the boundaries between jazz, R&B, pop and hip hop, Montreal-based Elizabeth Shepherd is perceived by some commentators as a distaff equivalent to Robert Glasper. The truth is, though, that her music is deeper and more cerebral than Glasper's ... she's more like an intellectual Esperanza Spalding" - MOJO (UK)
"Soulful coolness" - USA Today
"Mag-ni-fique!" - Jazzafip, Radio France
"Extraordinary talent" - RBB Kulturradio (GER)
"Idiosyncratic vocals, intriguing arrangements, and polished keyboard work" - JazzTimes (US)
"Plus intéressante que la presque totalité des chanteuses associées au jazz" - La Presse (CAN)
"An important work" - The London Evening Standard (UK)
"A name to watch" - Straight No Chaser (UK)
"Stunning....original and exciting" - Seattle Post (US)
"A hugely original musical mind at work" - Toronto Star (CAN)
"A studio marvel by an inventive risk-taker" - All About Jazz (US)
"Imaginative arrangements with a laid-back hipness" - The Irish Times
"Bound to intoxicate American jazz fans" - LA Jazz (US)
"Displays a profound understanding of the expressive power of the human voice" - Helsingborgs Dagblad (SWE)
"Sensationally original arrangements.... ravishing" - Properganda Magazine (UK)
"Smartly crafted with genuine staying power" - ICON Magazine (US)
"A jazz virtuoso blessed with a pop sensibility" - Real Detroit Weekly (US)
"Completely unique delivery and style" - Jazzrytmit (FIN)
"Whether you're a hipster, a purist or a Diana Krall-loving softie, she will win you over" - Montreal Gazette (CAN)
"C'est l'album qui confirme tout : le talent, l'originalité, la singularité" - Le Devoir (CAN)
"A soul-groove masterpiece" - Radio Koln (DE)
"5 stars" - Blues & Soul (UK)
"The most important vocal jazz record to be released all year" - Something Else (US)
"S'il vous fallait un signal fort pour confirmer la présence d'Elizabeth Shepherd parmi les artistes les plus intéressants du jazz moderne, arrêtez d'attendre" - ICI Musique (CAN)
"One of the most creative, inventive, and delightful albums of the year" - The Voice
Tickets are available online or at the Concert Hall Box Office: 855-372-2210
Venue
The Concert Hall At Victoria Hall
55 King St. W.
Cobourg Ontario K9A 2M2
×
This is a general event - the seats are on a first come, first serve basis when you arrive at the venue.
Doors open 1/2 hour prior to start of event.