Pat Labarbera and Kirk MacDonald Celebrate John Coltrane Monday, October 23, 2023 at 7:00 PM EDT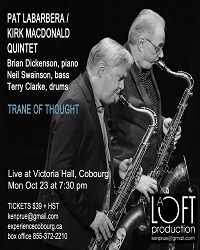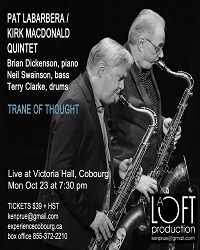 You've selected
Monday, October 23, 2023 at 7:00 PM EDT
×
Ken Prue/A Loft Production presents: Pat Labarbera and Kirk MacDonald Celebrate John Coltrane
Date: Monday October 23, 2023 at 7:00 pm
Venue: Concert Hall at Victoria Hall
Ken Prue-
On March 30, 2023 I presented the Canadian Jazz Collective at The Concert Hall at Victoria Hall in their first Canadian concert and first outing of a 24 date tour of Ontario and five European countries. It was a Victoria Hall full house, a standing ovation and a great first meeting with saxophonist/band co-leader Kirk MacDonald.
Kirk wrote to me in June '23 saying "I want to pitch you the idea of doing a concert with a group that I have co-led with Pat LaBarbera for thirty plus years dedicated to honouring the legacy of John Coltrane. We have annually done a three or four night residency at the Rex Hotel in September around Coltrane's birthday (Sept 23) for over thirty years.( plus numerous other concerts and festivals of course) I'm wondering if you would have any interest in presenting the group in and around that time? (mid to late September) Our Rex dates are September 20-23."
This Monday Oct 23 concert is the result of Kirk's recent email.
Here is Kirk's description of his first coming together with Pat La Barbera: "The first time we worked together in a co-leader situation was in Ottawa and I believe it was in the basement of the Lord Elgin Hotel where they did concerts on occasion. I was living in Ottawa at the time and believe it was Jacques Emond who helped put the gig together for Jazz Ottawa, the jazz society. That was around 1990 or early 1991. Nothing specific musically was planned other than a loose understanding that we would find some common ground, explore playing together and share some music with those in attendance." That gig became the seed for the Coltrane project which we started shortly after that upon my relocation back to Toronto in the fall of 1991. We have been doing the Coltrane project since 1992, — so 30 years and running.. John Coltrane has left us one of the most enduring legacies in modern music and has been one of the major influences in jazz and creative music over the past 50 years. Although Pat and I are from different generations, Coltrane's music is something that we have both grown up with, studied and have been heavily influenced by. Paying homage to, and continuing to explore his legacy is a privilege that continues to be inspirational, humbling and uplifting all at the same time. Tenor sax players Pat La Barbera and Kirk MacDonald, the co-leaders of this excellent quartet, are great fans of the late great saxophonist Disciples, yes, but not slavish imitators. LaBarbera and MacDonald have strong and vibrant voices of their own, which come through loud and clear on Trane of Thought, a well-received concert recorded LIVE at the Rex Jazz & Blues Bar in Toronto. The album and this concert are a tribute to Coltrane and his massive influence on generations of jazz musicians, no matter the instrument. In Trane of Thought, La Barbera and MacDonald are on top of their game, but so is group's superlative rhythm section: drummer Terry Clarke keeps flawless time, chaperoned by bassist Neil Swainson and pianist Brian Dickinson. Each of them takes solid solo shots as well.
Here is a masterful track from Trane of Thought, by MacDonald/La Barbera. ▶︎ Naima | Pat Labarbera / Kirk Macdonald (bandcamp.com)
This is a heartfelt tribute that puts the pedal to the metal from the downbeat and never once lets up.. La Barbera and MacDonald have immersed themselves in the music of Coltrane, an love that is perceptible in every note they play. They and their teammates have put it all together on Trane of Thought, one of the more impressive Coltrane tribute concerts ever.
Personnel:
Pat LaBarbera: tenor saxophone; Kirk MacDonald: tenor saxophone; Brian Dickinson: piano; Neil Swainson: bass; Terry Clarke: drums.
Who Was John Coltrane?
John Coltrane (September 23, 1926 - July 17, 1967) was an American jazz saxophonist, bandleader and composer. He is among the most influential and acclaimed figures in the history of jazz and 20th-century music. Working in the bebop and hardbop idioms early in his career, Coltrane helped pioneer the use of modal jazz and was one of the players at the forefront of free jazz. He led at least fifty recording sessions and appeared on many albums by other musicians, including trumpeter Miles Davis and pianist Thelonius Monk. Over the course of his career, Coltrane's music took on an increasingly spiritual dimension, as exemplified on his most acclaimed album A Love Supreme (1965).
Tickets are $39 plus hst and service fee and available at the Concert Hall Box Office: 855-372-2210.
Venue
The Concert Hall At Victoria Hall
55 King St. W.
Cobourg Ontario K9A 2M2
×
This is a general event - the seats are on a first come, first serve basis when you arrive at the venue.
Doors open 1/2 hour prior to start of event.