Dave Young Quintet Sunday, December 17, 2023 at 3:00 PM EST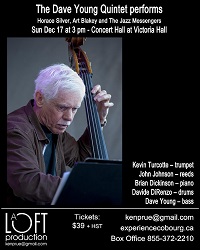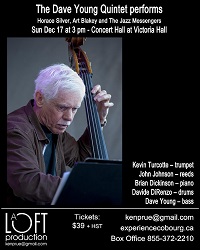 You've selected
Sunday, December 17, 2023 at 3:00 PM EST
×
Ken Prue/a Loft Production presents: Dave Young Quintet
Sunday December 17, 2023 at 3:00 pm
Concert Hall at Victoria Hall
Bandleader, Dave Young calls this Quintet a 'killer' group of superb musicians. The reed/saxophonists Perry White and John Johnson played interchangeably on the Jazz Bistro set. Johnny Johnson will play in our Dec 17 gig.
Moanin' (originally titled Art Blakey and the Jazz Messengers) is a studio album by Art Blakey and the Jazz Messengers, released in January 1959 by Blue Note Records. This was Blakey's first album for Blue Note and the beginning of a performance and recording juggernaut. The popularity of the opening track, 'Moanin,' composed by pianist Bobby Timson led to the album becoming synonymous with Blakey, The Jazz Messengers and the art form, 'hard bop.'
The first set of our concert will feature the music and influence of Horace Silver (Freddie Hubbert, Wayne Shorter). The second set feature the momentous influence of Art Blakey and The Jazz Messengers. The music you will experience is a 'sonic earthquake in the history of Jazz.
I can hardly contain my excitement for our Dec 17 concert when some of Canada's finest jazz players under Dave Young's leadership will recreate the magic of jazz when jazz was at its peak. Get your tickets early. Pretty sure this show will sell out.
-Ken
Tickets are $39 plus hst and service fee and available at the Concert Hall Box Office: 855-372-2210
Venue
The Concert Hall At Victoria Hall
55 King St. W.
Cobourg Ontario K9A 2M2
×
This is a general event - the seats are on a first come, first serve basis when you arrive at the venue.
Doors open 1/2 hour prior to start of event.