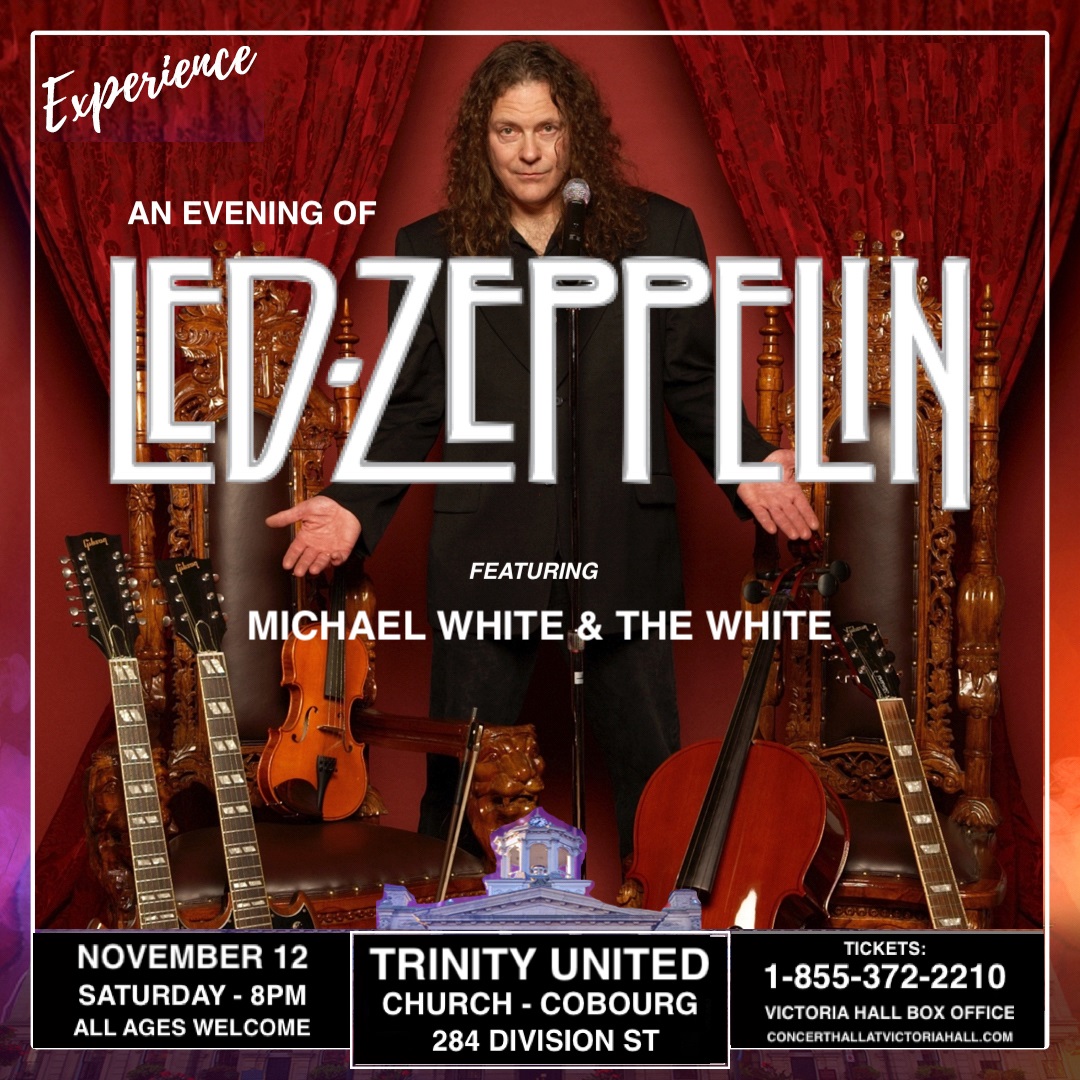 An Evening of Led Zeppelin
When
Occurs on Saturday November 12 2022
Approximate running time: 2 hours
Venue
Event Notes
×
AN EVENING OF LED ZEPPELIN PERFORMED BY MICHAEL WHITE & THE WHITE
On Saturday, November 12, 2022 the music of Led Zeppelin will echo through the high ceilings of Cobourg's most prestigious venue, when Atlantic Records recording artists Michael White & The White perform the best of Led Zeppelin at Trinity United Church in Cobourg.
This best of Led Zeppelin show will feature hit songs including, Whole Lotta Love, Stairway To Heaven, Kashmir, Rock And Roll, Black Dog, Immigrant Song, Communication Breakdown, The Song Remains The Same, No Quarter, Over the Hills And Far Away, Dazed And Confused, When The Levee Breaks and more.
The show will also feature the C.C.I. music department conducted by Peter Riccio. The orchestra will provide accompaniment for several songs during the show. "Playing with enthusiastic young musicians in a rock orchestra setting is inspirational," White declared, "Trinity United Church has such great acoustics. It's a perfect venue for an old school rock show!" This classic rock live concert will have even the most ardent Zeppelin fans cheering for more.
Although he has been performing Led Zeppelin's music for so many years, Mr. White doesn't get tired of it. "I love it," he said. "The music is as vital today as it ever was." At one recent show in particular, Mr. White said three generations attended together.
The Led Zeppelin music that he and his band "The White" play is so true to the spirit of their idols that they have actually been endorsed by Led Zeppelin's Jimmy Page and Robert Plant. Don't miss this show!
VENUE, DATE, & LOCATION: SATURDAY, NOVEMBER 12, 2022 - 8:00 PM TRINITY UNITED CHURCH 284 DIVISION ST. COBOURG, ON K9A 3R1 All Ages Welcome - Doors 7:30pm
TICKETS: $30 + HST/FEES
TICKETS AVAILABLE AT: WWW.CONCERTHALLATVICTORIAHALL.COM
VICTORIA HALL BOX OFFICE 1-905-372-2210 THE CONCERT HALL AT VICTORIA HALL 55 KING STREET WEST, COBOURG, ON, K9A 2M2
==========
"Michael White was the singer of Motley Crue before it became Motley Crue!" - Nikki Sixx - The Dirt (Official Motley Crue Biography)
"Michael White plays it best!" - Jimmy Page
"Michael White sings Led Zeppelin, I sing Robert Plant." - Robert Plant
Michael White formed the world's first tribute band, The White - A Tribute To Led Zeppelin in 1977. Since that time The White have performed over 5,000 shows to more than a million fans around the world. - A Celebration by Dave Lewis (2003) and Send In The Clones by Georgina Gregory (2012)
Originally from Los Angeles, Michael performed frequently in Hollywood during the mid 1970s where he met The Who's legendary drummer, Keith Moon. "He was a great guy. Always very nice and friendly," Michael recalls, "Keith liked to just hang out in the clubs with all of us young musicians. You read about all of these crazy things he would do, but around us he was down to earth." - Orangeville Banner
"In 1983 Robert Plant (vocalist for Led Zeppelin), introduced Michael White to Atlantic Records with whom Michael eventually signed a $350,000 recording contract and released his debut solo album in 1987." - Toronto Star
"This isn't an orchestral show with a rock element, it's a rock band featuring an orchestra." - Globe and Mail
"Michael White's musical career has ranged beyond Led Zeppelin and The Who. He has also performed and/or recorded with Nikki Sixx (Motley Crue), Alice Cooper, Keith Emerson (ELP), Rick Wakeman (Yes), Rik Emmett (Triumph) Jeff Healey, Randy Bachman (BTO, Guess Who), Ronnie Hawkins (The Band), Steve Cropper (Booker T & the MG's/Blues Brothers), Carmine Appice (Rod Stewart), Steve Morse (Deep Purple), Steve Lukather (Toto), Manny Charlton (Nazareth), Vinnie Colaiuta (Jeff Beck), George Lynch (Dokken), Randy Piper (WASP), Bobby Chouinard (Billy Squire), Alan White (Yes), Albert Lee (Jackson Browne/Joe Cocker), Walter Trout, and Dweezil Zappa." - Robert Godwin - CG Publishing