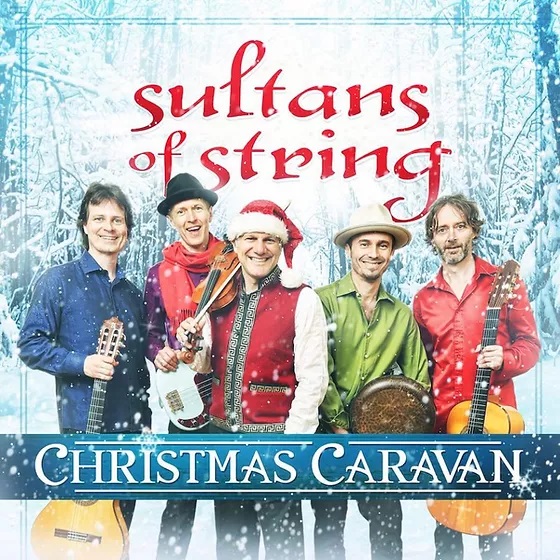 Sultans of String - Christmas Caravan
When
Occurs on Tuesday December 20 2022
Approximate running time: 2 hours
Venue
Event Notes
×
Ken Prue/A Loft Production presents: Sultans of String
Tuesday December 20, 2022 at 7:00 pm in Concert Hall at Victoria Hall
As winter crests and the mercury falls, radio stations and businesses everywhere put the seasonal hits like "Jingle Bells" and "Silent Night" on endless repeat. But for their Christmas Caravan show and album, Canada's string wizards Sultans of String celebrate the holiday spirit with an adventurous musical trip around the world, featuring exuberant originals, world-music inspired classics, and seasonal favourites to warm your heart on a cold winter's night.
Joining the Christmas Caravan this year is shimmering guest vocalist Rebecca Campbell and Saskia Tomkins on nykelharpa!
From fiery fiddle tunes to a Caribbean sleigh ride, this surprising and delightful holiday fiesta heats up when Sultans of String bring their signature sound to well known gems such as Jesu, Joy of Man's Desiring, a Turkish twist on Greensleeves, Silent Night, as well as a Roma-jazz inspired Django Christmas, and a Rumba-Flamenca fuelled Jingle Bells.
The show is also a special awareness and fundraising raising bash for the UNHCR. As fundraising partners with UNHCR, the band has raised over $10,000 for UNHCR: https://amplify.e-activist.com/14441/p2p/90279/sultansofstring .
"Helping refugees is a cause we care about deeply because more than 67 million refugees worldwide are in desperate need of our support. They have every right to live a safe and dignified life as much as we do", says bandleader and Queen's Diamond Jubilee Medal recipient Chris McKhool. "By supporting this show and partnership with the UNHCR, you are providing life-saving assistance to refugees all over the world."
Special Guests:
Rebecca Campbell Rebecca Campbell is an acclaimed and prolific singer who also serves up percussion, Stella guitar, melodica, and harmonica. Bred in the Maritimes and Ottawa, educated in Montreal, and now based in Toronto, Rebecca has performed with Jane Siberry, Lynn Miles, Porkbelly Futures, Parachute Club, Royal Ottawa, Ian Tamblyn, among countless others. Her gorgeous voice has graced both the big and small screen, and on over 120 recordings.
Saskia Tomkins Saskia Tomkins is a master musician of Violin/Fiddle, Viola, Cello and Nyckelharpa. She is classically trained with a folk background and a B.A.hons. in Music (Jazz), and she won All Britain Champion Irish Fiddler. Saskia has worked Jimmy Bowskill, The Chieftains, Kim Doolittle, Tim Edey, Tim Garland, "Jabbour", Robb Johnson, Sonja Kristina (Curved Air), Ron Korb, James McKenty, Crispian Mills (Kula Shaker), David Newland, Donald Quan, "Sin E" Ted Staunton , "Sultans of String", Miranda Sykes, "Uriah Heep", Lotus Wight (Sam Allison), Ken Whiteley, "Al-pha-X" and Astrid Young, her husband Steáfán Hannigan and son Oisín Hannigan, and a host of other amazing musicians, actors and dancers! Her theatre work includes: Originating the "Celtic-ifying" of the broadway hit "Come From Away"; The English Shakespeare Company and Michael Bogdanov; 4th Line Theatre, Ontario; Sadler's Wells Theatre, London UK; Saskia's current projects include Steáfán & Saskia with Steáfán Hannigan, the instrumental jazz/roots duo 2ish, with Brandon Scott Besharah; the Celtic crossover group Cáirdeas and the jazz trio Marsala and the Imports. She frequently plays with Sultans of String and in the Maple Leaf Jug Band. Saskia is principal 2nd violin for Quinte Symphony Orchestra.
Tickets are $39 plus hst and service fee and available at the Concert Hall Box Office 855-372-2210
Sultans of String career highlights: • 2021 Canadian Folk Music Awards winner for Producer of the Year with Refuge • 2021 Canadian Folk Music Awards nominee for Ensemble of the Year with Refuge • 2021 Canadian Independent Music Association - Pivot Award • 2020 Canadian Folk Music Awards winner – Producer of the Year for "Refuge" • 2020 Canadian Folk Music Awards nominees – Ensemble of The Year for "Refuge" • 2020 Folk Music Ontario- Songwriting Award – Instrumental - "Refuge" • 2020 Folk Music Ontario- Songwriting Award – Political - "I Am a Refugee" • 2020 Independent Music Awards - Instrumental Song of the Year - The Grand Bazaar • 2020 Independent Music Awards - World Music Producer of the Year – Refuge • 2018 Canadian Folk Music Awards nominees – Producer of the Year with Christmas Caravan • 2018 Music featured in the acclaimed film, "Hotel Mumbai" • 2017 JUNO nominees – World Music Album of the Year • 2017 New York Times Hits List with Christmas Caravan • 2017 Billboard World Music Charts -- Christmas Caravan CD hits #6 • 2017 Canadian Nielsen World Music Charts – Christmas Caravan CD hits #3 • 2017 Folk Music Ontario- Songwriting Award for "Sing For Kwanzaa" from Christmas Caravan • 2016 Canada's High Commission in London UK presents SOS at Trafalgar Square • 2016 Canadian Folk Music Awards winners– World Music Group of the Year • 2016 Global Music Awards– World Music / Beats • 2016 ISC – Honorable Mention • 2015 JUNO nominees – Instrumental Album of the Year
• 2015 TIMA winners – Best World Album • 2014 SiriusXM Independent Music Awards Winner- World Group of the Year
• 2014 IMA Independent Music Award Winner – Instrumental • 2013 ISC International Songwriting Competition Winner- Instrumental • 2013 Festivals & Events- Performer of The Year • 2013 Queen's Diamond Jubilee Medal for bandleader Chris McKhool • 2012 Canadian Folk Music Awards winners– World Music Group of the Year • 2012 Festivals & Events- Entertainer of The Year • 2011 International Acoustic Music Awards Finalist – Instrumental • 2011 Independent Music Award 2x Finalist – Instrumental & World Beat Album • 2011 ISC International Songwriting Competition 2x Finalist- Instrumental & World Music • 2010 JUNO Award Nominees - "Instrumental Album of the Year" • 2010 Canadian Independent Music Awards nominees- Favorite World Group • 2009 International Songwriting Competition (ISC) First Place - Instrumental • 2009 Canadian Folk Music Award triple nominee winning Instrumental Group of the Year (also nominated for Ensemble of the Year and Pushing the Boundaries) • 2008 International Songwriting Competition Winner (ISC) - Instrumental • 2008 Festivals & Events Ontario- Best Variety Act