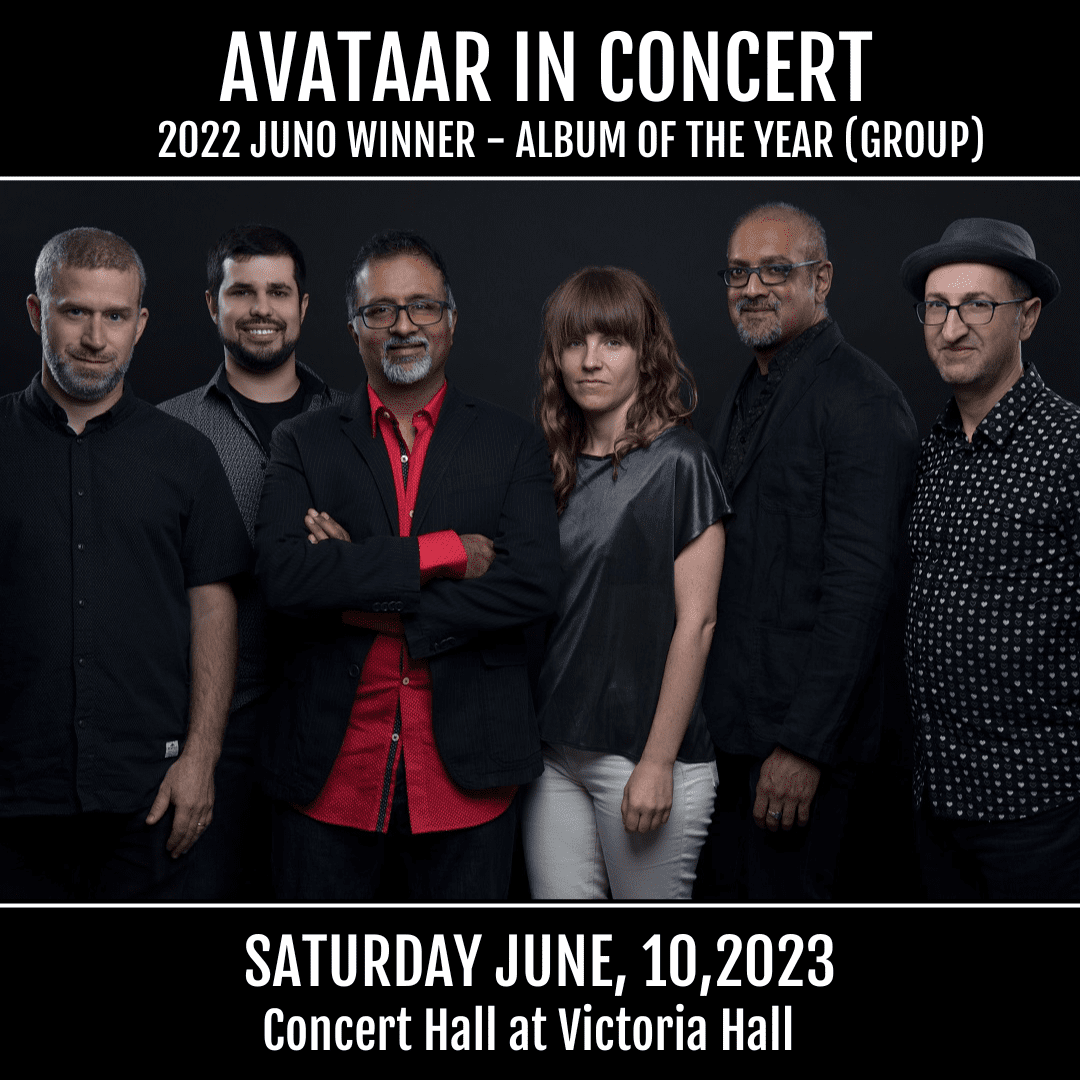 AVATAAR
When
Occurs on Saturday June 10 2023
Approximate running time: 2 hours
Venue
Event Notes
×
Saturday, June 10 2023 at 7:00 PM
AVATAAR IN CONCERT AT VICTORIA HALL, COBOURG
2022 jUNO WINNER - ALBUM OF THE YEAR (GROUP)
$39 + hst & service fee
Avataar is a JUNO award-winning (2022) Toronto-based world-jazz group featuring some of Canada's finest jazz, world, funk, and pop musicians. The personnel includes bandleader Sundar Viswanathan (saxophones, flute, vocals), Felicity Williams (vocals), Michael Occhipinti (guitar), Justin Gray (bass), Ravi Naimpally (tablas) and Max Senitt (drums and percussion). Special guests on the most recent, sophomore album, Worldview, include Aaron Lightstone (oud) and Todd Pentney (piano, Fender Rhodes, synth).
Worldview was released on Oct. 29, 2021 to critical acclaim, and won a 2022 JUNO award (Canadian GRAMMY) for Best Jazz Album (Group). The music is inspired by the deep musical traditions of India, Africa and Brazil, rooted within the framework of modern jazz. In an innovative marriage of ancient and modern, driving grooves intersect with cinematic atmospheres and soaring melodies, creating a fresh, emotive sonic experience. Bandmembers share an eclectic range of musical expertise - hardbop, pop, rock, electronica, free improvisation, world and R&B/Soul filter into the interpretations of the tunes. Petal, Avataar's debut CD (2016) received critical acclaim from publications including DOWNBEAT, JAZZIZ, allaboutjazz and worldmusiccentral.com. Production of both albums and upcoming live video was generously supported with grants from Ontario and Canada Arts Councils.
The band's original compositions are informed by artists including Shakti, Jarrett, Oregon, Jan Garbarek, Jobim, Robert Glasper, Snarky Puppy, Kenny Garrett and Ornette Coleman, and at their core are imbued with an intent toward political and social change and a spiritual focus that transcends the sound. While Avataar's debut album, Petal, explored the evanescence of human life and was a call for a return to spiritual connectedness, Worldview attempts to also present a musical commentary on the state of our world, on the pandemic and on the inability of our leaders to lead with integrity, honesty and compassion. While the actions of our leaders affected so many, some of the songs started as gut responses to the treatment of children, our most valuable and vulnerable citizens, and act as vehicles of catharsis for the composer.
Avataar has been making original music together for over 10 years, and continues to develop an Ntl/Intl reputation. The band's performance record includes the Guelph, Sudbury, Markham and Brampton Jazz Festivals, Lula Lounge, Trane Studio, several universities and colleges in Ontario, Hugh's Room, the Small World Centre, the Emmett Ray, and other venues. In 2018 Avataar successfully toured South Africa, playing in venues ranging from intimate jazz clubs to universities and concert halls. This tour took the band through Cape Town, Kalk Bay, Durban, Johannesburg and Pretoria. Most recently, a tour of Western Canada helped develop a national profile through performances to enthusiastic audiences in BC, AB and SK (Penticton, Revelstoke, Canmore, Saskatoon, Regina, Calgary, Nelson and Cranbrook). Both tours were grant supported.
Avataar's work has received critical acclaim from a wide range of online and print publications and from presenters internationally. Don Griffiths (The Bassment) offers praise "Sundar Viswanathan and Avataar wowed our patrons with a first-rate performance…. Drawing on the jazz traditions of composition and improvisation, the group added a varied pallet of world music influences resulting in an exciting performance for our patrons. People will be talking about this show for a long time.
Listen: AVATAAR Worldview 2022 Juno-winning album - Title Track -
Tickets are available online or at the Concert Hall Box Office: 855-372-2210