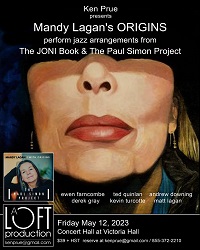 Mandy Lagan's Origins
When
Occurs on Friday May 12 2023
Approximate running time: 2 hours
Venue
Event Notes
×
MANDY LAGAN'S ORIGINS perform THE JONI BOOK and THE PAUL SIMON PROJECT
Friday May 12 at 7:00 pm - Mandy Lagan's ORIGINS
Venue: Concert Hall at Victoria Hall
MANDY LAGAN has been a player on the Toronto jazz scene since 1990 and is recognized as one of the city's finest jazz singers and arrangers. She has assembled a super-fine ensemble of jazz players (ORIGINS) who have recorded several albums and performed at top clubs and festivals around the province, including the TD Toronto Jazz Festival, Festival of the Sound (Parry Sound ON), and the Hudson Music Festival in Quebec. ORIGINS have performed twice in Cobourg in recent years, both times at The LOFT to sold-out houses.
Mandy's most recent recordings are THE JONI BOOK (jazz arrangements of Joni Mitchell songs) and THE PAUL SIMON PROJECT (jazz arrangements of selections from the Paul Simon songbook). While Mandy is the bandleader & vocalist, she shares song-arrangement with various members of ORIGINS. These are some of Canada's top jazz players, arrangers, performers and educators Mandy Lagan vocals/bandleader, Ewen Farncombe, piano, Ted Quinlan, guitar, Andrew Downing cello, Blair Mackay percussion, Kevin Turcotte trumpet, Matt Lagan - Saxophone, Jim Vivian acoustic bass,
Mandy Lagan's ORIGINS performs on Friday, May 12 at 7:00 pm at The Concert Hall at Victoria Hall. Jazz arrangements of popular songs are not new. The great jazz innovators of the 50s and 60s peppered their playlists with jazz-adapted pop songs and Miles Davis famously gave Cindy Lauper's Girls Just Wanna Have Fun a unique treatment on his controversial and modernistic Bitch's Brew. I predict you will love this concert that gives the familiar a fresh, musical makeover.
Tickets are $39 + HST & service fee and available at the Concert Hall Box Office: 905-372-2210