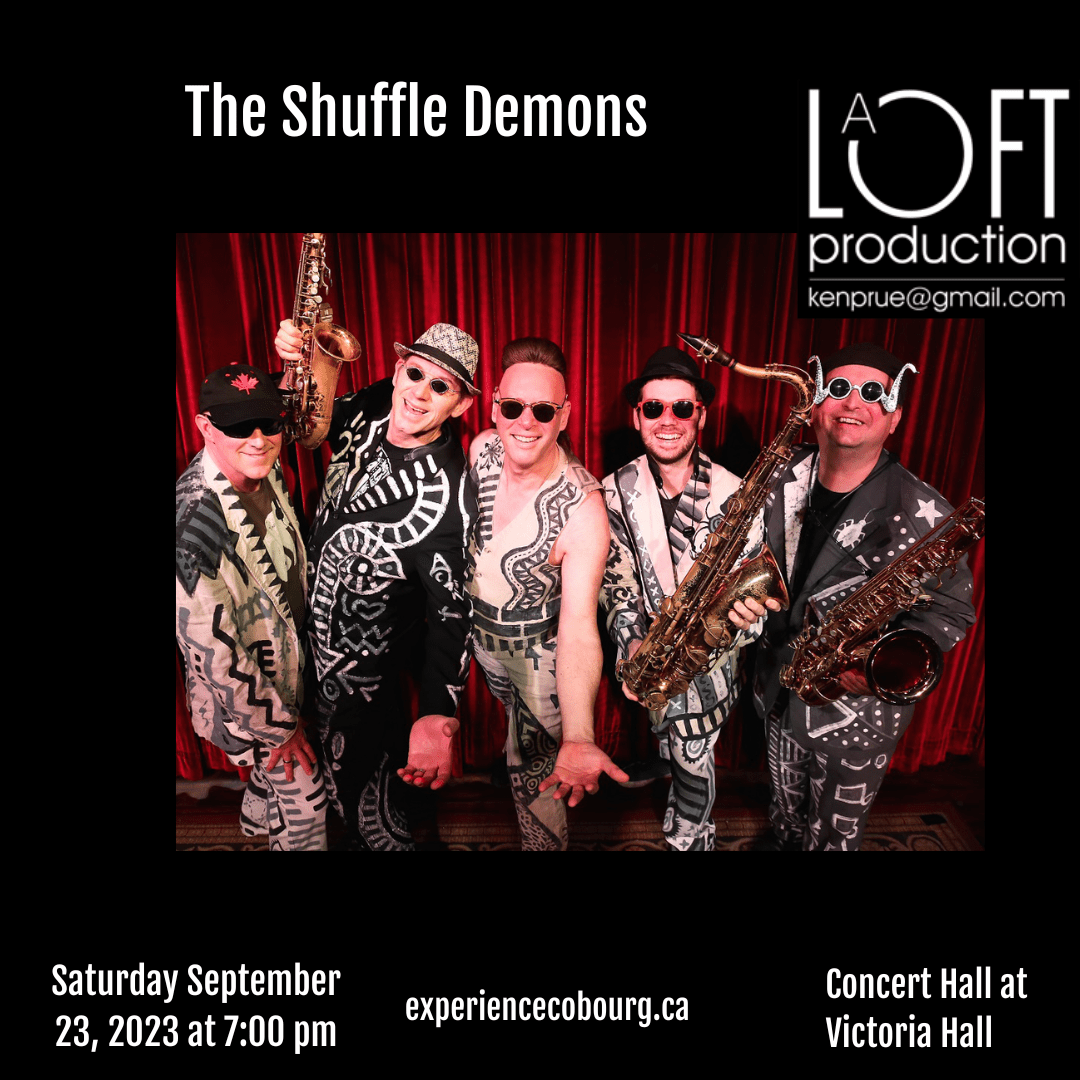 The Shuffle Demons
When
Occurs on Saturday September 23 2023
Approximate running time: 2 hours
Venue
Event Notes
×
Ken Prue/A Loft Production presents: The Shuffle Demons
Date: Saturday September 23, 2023 at 7:00 pm
Venue: Concert Hall at Victoria Hall
The Shuffle Demons are coming to Cobourg with an all new 10th album, "All In." The album includes 10 original all-instrumental Shuffle Demons songs written by 4 of the 5 band members. The album is the first full album with new and virtuosic Shuffle Demons Matt Lagan on tenor sax and Mike Downes on bass as well as demons regulars Kelly Jefferson on sax, Stich Wynston on drums and Richard Underhill on sax. This is a dynamic new album that features in-from-the-outside writing, virtuosic playing and the classic and unique Shuffle Demons sound.
The Shuffle Demons are a high-energy Canadian band that blends virtuosic jazz and funk playing with eye-catching costumes and over the top stage antics to produce an incredible show. A hit at festivals all over the world, the Shuffle Demons are a crowd pleasing, full-on musical group that backs up wild stage antics with phenomenal playing by some of Canada's most talented musicians.
The Shuffle Demons first broke onto the Canadian music scene in 1984 with an electrifying musical fusion that drew in equal measure from Sun Ra, Charles Mingus, Run DMC and the Beastie Boys. This band is genre bending, highly visually entertaining, funny, and best of all, can really PLAY. All their eye-catching, crowd-pleasing stunts are backed up by incredibly solid musicianship and real ground-breaking playing.
The band continues the tradition today with a great line-up of players that includes Juno Award winner Richard Underhill -sax & vox, Matt Lagan and Kelly Jefferson - saxes, Mike Downes - bass and Stich Wynston - drums. Expect the same exciting, no holds barred performances that feature wild romps in the crowd, free jazz moments, danceable funk, poetry, killer solos and more.
Tickets are $39 plus hst and service fee and available at the Concert Hall Box Office: 855-372-2210