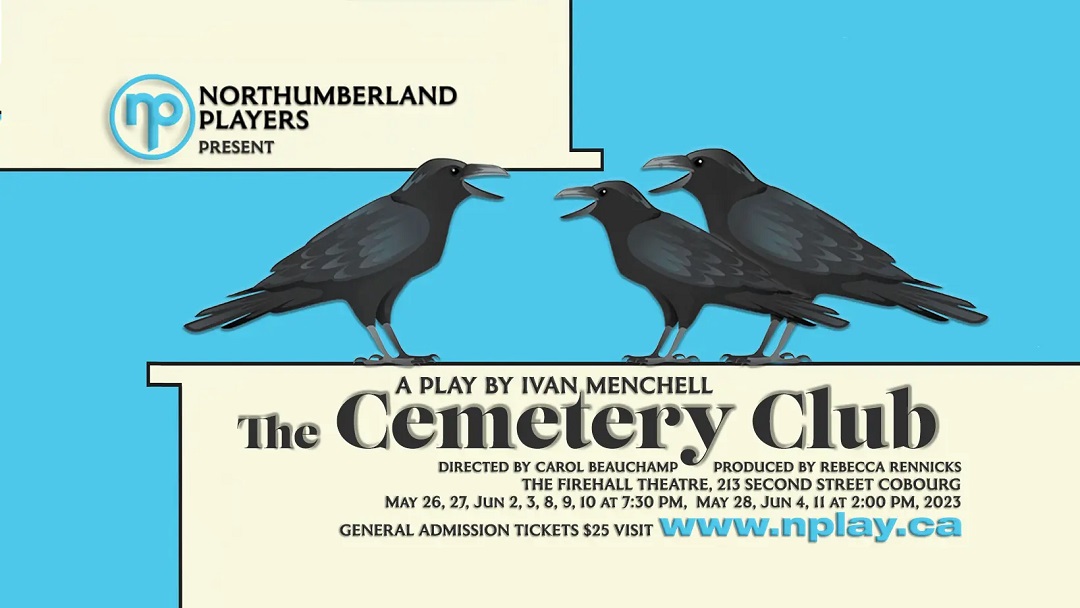 The Cemetery Club
When
Runs from Friday May 26 2023 to Sunday June 11 2023
Approximate running time: 2 hours
Venue
Event Notes
×
Northumberland Players present: The Cemetery Club
MAY 26 - JUN 11, 2023
7:30 PM - May 26, 27; Jun 2, 3, 8, 9, 10
2:00 PM - May 28; Jun 4, 11
Venue: Firehall Theatre 213 Second St. Cobourg
This heartwarming comedy about three Jewish widows who meet once a month for tea before going to visit their husbands' graves has been on Broadway and made into a movie.
Ida is sweet tempered and ready to begin a new life; Lucille is a feisty embodiment of the girl who just wants to have fun; and Doris is priggish and judgmental, particularly when Sam the butcher enters the scene.
The play is funny and poignant. Audiences will love to spend an evening with these golden girls.
The Cemetery Club is presented by arrangement with Concord Theatricals on Behalf of Samuel French, Inc.
BY
IVAN MENCHELL
DIRECTOR
CAROL BEAUCHAMP
PRODUCER
General Admission: $25 plus service fee
Masks will no longer be required in the audience. Please remember to be kind, understanding, and respectful of others' personal choices. The theatre is equipped with 2 air scrubbers with charcoal filter systems; these clean and change the air in the entire theatre 4 times per hour.
This production is made possible through the support of the Ontario Trillium Foundation.
*There may be additional tickets available for each performance. Contact the Victoria Hall Box Office for more information: 905-372-2210