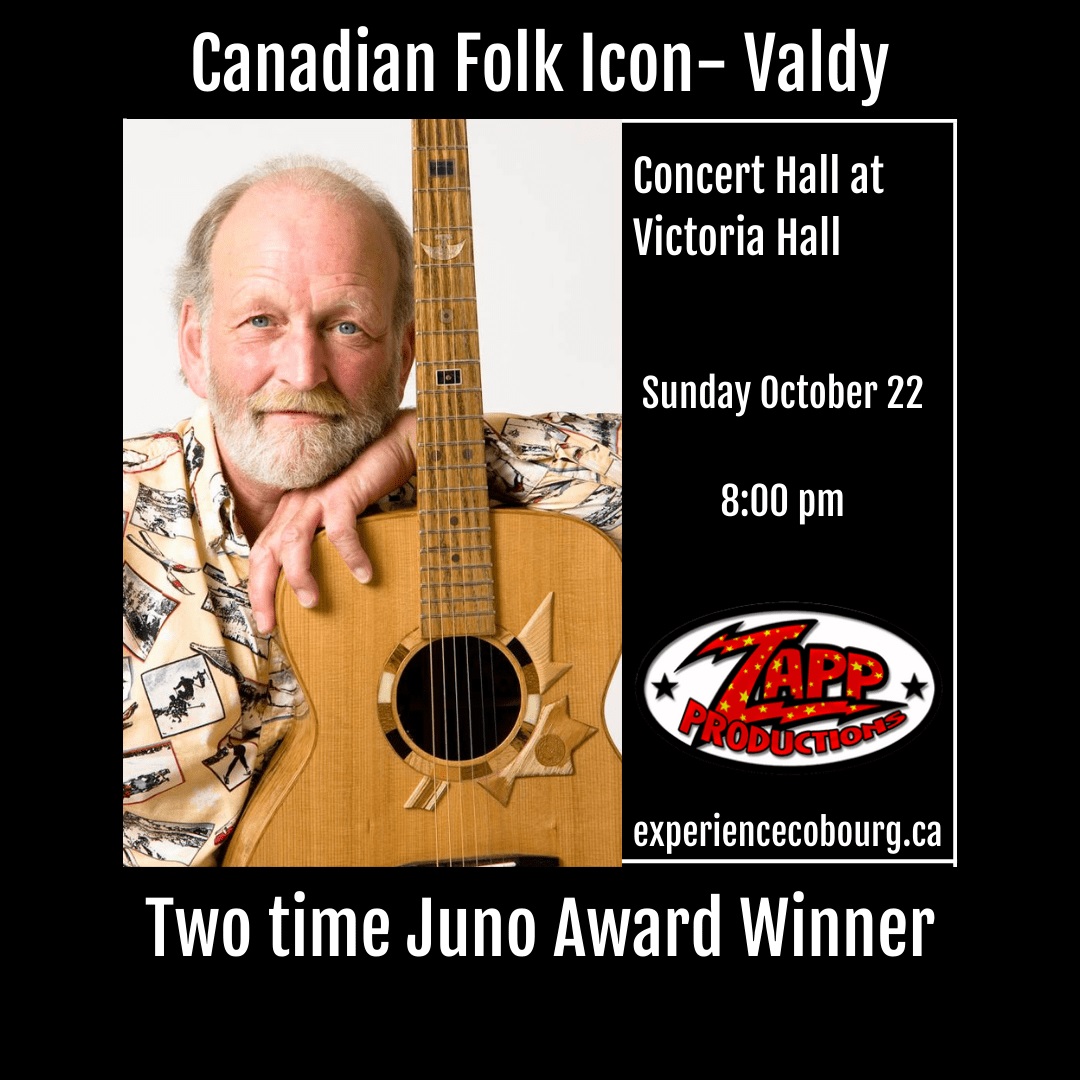 Canadian Folk Icon - Valdy
When
Occurs on Sunday October 22 2023
Approximate running time: 2 hours
Venue
Event Notes
×
Zapp! Productions presents: Canadian Folk Icon- Valdy
Date: Sunday October 22, 2023 at 8:00 pm
Venue: Concert Hall at Victoria Hall
"Valdy remains one of the country's purest and most credible storytellers." Toronto Star
Two time Juno Award Winner and Folk Icon Valdy plays Victoria Hall on Sunday October 22, 2023 at 8:00 pm
Valdy, born Valdemar Horsdal in Ottawa, Canada has been part of the fabric of Canadian pop and folk music for almost 40 years. A man with a thousand friends, from Newfoundland to Vancouver Island to Texas to New Zealand, he's a singer, guitarist and songwriter who catches the small but telling moments that make up life.
Remembered for Play Me a Rock and Roll Song, his bitter-sweet memory of finding himself, a relaxed and amiable story-teller, facing a rambunctious audience at the Aldergrove Rock Festival circa 1968, Valdy has sold almost half a million copies of his 13 albums, has two Juno Awards (Folk Singer of the Year and Folk Entertainer of the Year), a total of seven Juno nominations and four Gold albums to his credit.
Valdy's recent CDs include "Contenders", a collaboration with friend and fellow singer/songwriter, Gary Fjellgaard and a solo release, "Viva Valdy: Live at Last", a two-CD package, one live, one studio, with a total of 25 tunes.
One of Canada's most influential songwriters, Valdy's composition A Good Song was recorded under the title Just a Man by the venerable Quincy Jones ( he sang lead on the recording!). Play Me a Rock and Roll Song has been recorded by a few artists, including John Kay of Steppenwolf.
Along the way, Valdy has taken his music to a dozen different countries, from Denmark to Australia and been an often-invited performer at the prestigious Kerrville Festival in Texas. His past television appearances include Canada AM and Open Mike with Mike Bullard. Valdy has also been a panelist on Front Page Challenge, and played a lead role in an episode of The Beachcombers original series.
MORE SHOW REVIEWS...
"...judging by last night's performance, Valdy's musical magic is alive and well." Beacon Herald
"One of the best evenings of entertainment Confederation Centre has ever seen....a man of formidable talents." Charlottetown Evening Patriot
"He's a master of country, folk, rock and blues, and the catch is that whatever the sound, people know that Valdy is sincere." Saskatoon Star Phoenix
"Valdy's show is a disarming and practical blend of respect for the audience and show business expertise." Edmonton Journal
Tickets are $29.50 plus hst and service fee and are available at the Concert Hall Box Office: 855-372-2210