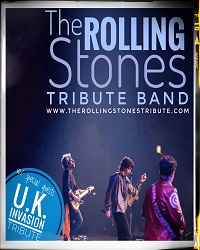 The Rolling Stones & U.K. Invasion Tributes
When
Occurs on Sunday October 1 2023
Approximate running time: 2 hours
Venue
Event Notes
×
The Tribute Specialists presents: The Rolling Stones & U.K. Invasion Tributes
Date: Sunday October 1st, 2023 at 7:30 pm
Venue: The Concert Hall at Victoria Hall
Prepare to be blown away by the ultimate double-header performance featuring The Rolling Stones Tribute and the U.K. Invasion Tribute bands! Experience an unforgettable night of music as these two powerhouse bands come together to give you the time of your life.
The Rolling Stones Tribute Band is the epitome of excellence, boasting a collective experience of over a century. From the charismatic lead vocalist to the impeccably choreographed horn section, every member of this captivating band brings their A-game to deliver a show that will leave you craving more.
What sets this Stones Tribute apart? Brace yourself for a mind-blowing experience where every song takes on a life of its own. Witness the replication of The Stones' most iconic live performances, as if the legendary band themselves were on stage. This is not just any ordinary Rolling Stones tribute - this is THE Rolling Stones Tribute Band that will leave you speechless.
But that's not all! Brace yourself for a night of non-stop entertainment as we kick off the show with the electrifying sounds of the U.K. Invasion Tribute. Get ready to dance, sing, and immerse yourself in the hit songs spanning five decades of British music. From The Beatles to Eric Clapton, Led Zeppelin to Phil Collins, and E.L.O to many more, this tribute band will have you on your feet from start to finish.
Don't miss this once-in-a-lifetime opportunity to witness both of these phenomenal performances on the same stage. It's a night that promises high energy, infectious beats, and an incomparable atmosphere. Get your tickets now and be prepared to experience the magic that only these exceptional tribute bands can deliver.
Tickets are $45 plus hst and service fee and available at the Concert Hall Box Office: 855-372-2210