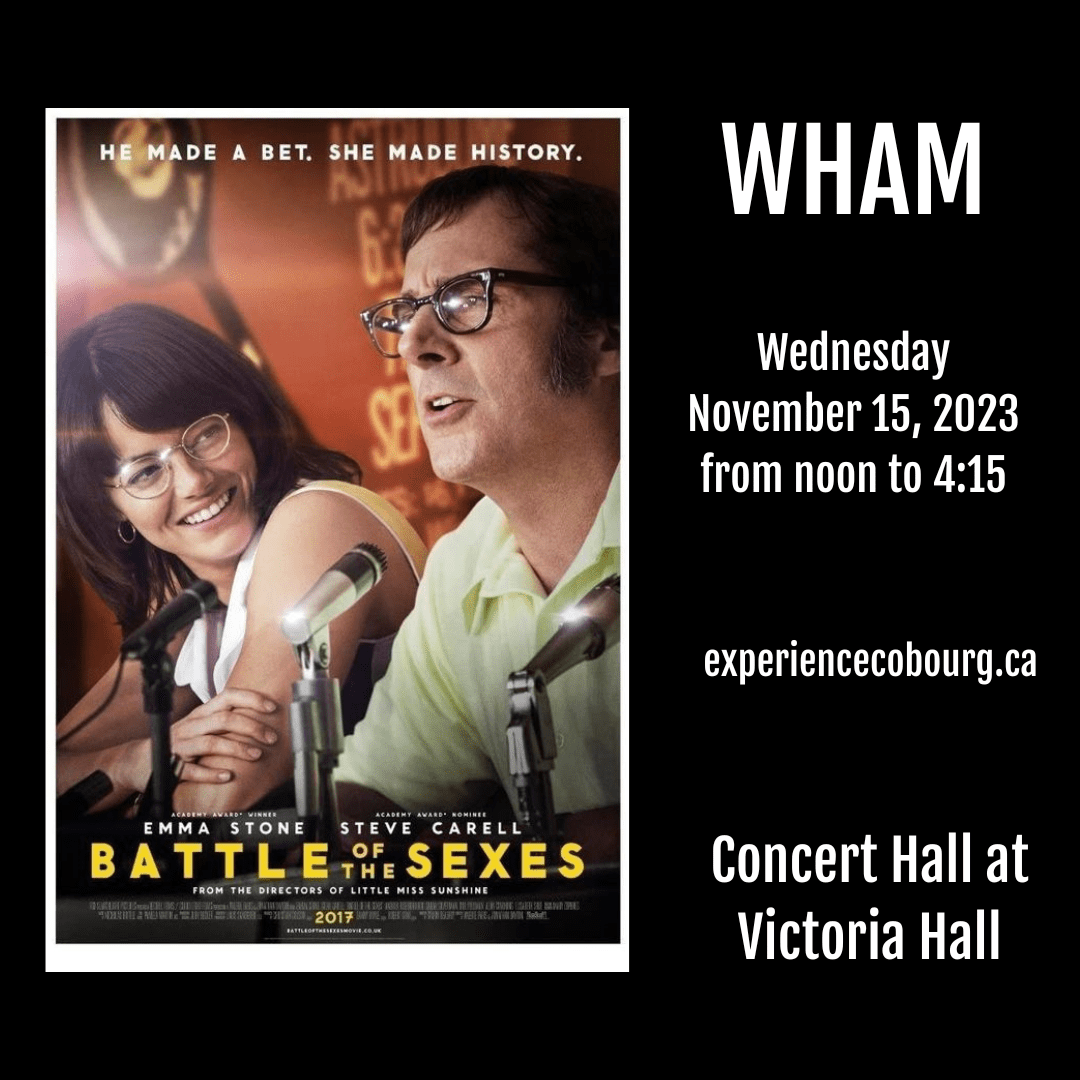 Battle of the Sexes (2017) - WHAM Film Series
When
Occurs on Wednesday November 15 2023
Approximate running time: 2 hours
Venue
Event Notes
×
Ken Prue/a Loft Production presents: WHAM - Wednesday November 15, 2023 from noon to 4:15, Victoria Hall Cobourg.
$25 plus service fee. Women-only-please. Table for 4 or 8 can be reserved at kenprue@gmail.com.
$8.00 full-day-parking available online at https://parking.cobourg.ca/ or at Victoria Hall in the Finance office. Plate #s and car-make required.
WHAM means 'Women Happy At The Movies. It is an exclusively-for-women film event with catered lunch, cash bar and an hour of open socializing from noon until 4:15 WHAM was a popular LOFT Cinema event. This is it's 12th incarnation and its 3rd at Victoria Hall.
The MOVIE: BATTLE OF THE SEXES (2017) starring Emma Stone and Steve Carell. In the wake of the sexual revolution and the rise of the women's movement, the 1973 tennis match between women's world champion Billie Jean King (Emma Stone) and ex-men's-champ and serial hustler Bobby Riggs (Steve Carell) was billed as the BATTLE OF THE SEXES and became one of the most watched televised sports events of all time, reaching 90 million viewers around the world. As the rivalry between King and Riggs kicked into high gear, off-court each was fighting more personal and complex battles. The fiercely private King was not only championing for women's equality, but also struggling to come to terms with her own sexuality, as her friendship with Marilyn Barnett (Andrea Riseborough) developed. And Riggs, one of the first self-made media-age celebrities, wrestled with his gambling demons, at the expense of his family and wife Priscilla (Elisabeth Shue). Together, Billie and Bobby served up a cultural spectacle that resonated far beyond the tennis court, sparking discussions in bedrooms and boardrooms that continue to reverberate today.
Bobby Riggs challenged Billie Jean to a tennis showdown and backed it up with a provocative bet of about one million dollars in present-day value . The media ate it up and whipped up the controversy. Americans filled the Houston Astrodome and primetime Television made the match an event with 92 million watching the telecast.. On match day in 1973, Billie Jean King demolished Bobby Riggs in straight sets. But Billie Jean herself was not straight. She harbored a deep, dark, secret. In an epilogue scroll we learn that "Ten years later, on May 1, 1981 Billie Jean King publicly came out as gay."
King's 'coming OUT' provides the real story context of her life drama, and much of the social relevance of the film.
Since this dramatic publicity-match female tennis players have enjoyed equal pay with men at US Open Tennis tournaments and lead the way among all international sports in pay equity. This is the 50th anniversary of the actual events of the 'battle of the sexes' and a significant factor in creating the momentum of the Women's Movement.
Speaking of "herstory," Emma Stone (who portrays Billie Jean King in the movie Battle of the Sexes) spoke on equality, respect and feminism while talking with OUT Magazine. She revealed that some of her male co-stars have taken "pay cuts so that I may have parity" with them. "That's something they do for me because they feel it's what's right and fair," Emma remarked. "[T]his is Billie Jean's feminism, and I love it—she is equality, man: equality, equality, equality.
Tickets are $25 plus service fee and include lunch and the film.
Tickets are available at the Victoria Hall Box Office: 855-372-2210.