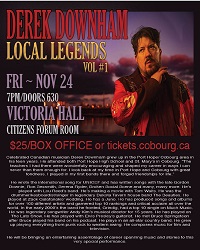 Local Legends Vol. #1: Derek Downham
When
Occurs on Friday November 24 2023
Approximate running time: 2 hours
Venue
Event Notes
×
Andrew Copland presents: Local Legends Vol. #1: Derek Downham
Friday, November 24, 2023 at 7:00 pm
Citizens Forum in Victoria Hall
Celebrated Canadian musician Derek Downham grew up in the Port Hope/ Cobourg area in his teen years. He attended both Port Hope High School and St. Mary's in Cobourg. "The teachers I had there were wonderfully encouraging and shaped my career in ways I can never thank them enough for. I look back at my time in Port Hope and Cobourg with great fondness. I played in my first bands there and forged friendships for life."
He has played with a staggering amount of top Canadian artists from a myriad of genres and performed shows from The Legendary Horseshoe Tavern to Massey Hall, from The Bell Centre in Montreal to reserves in the beautiful far North. He has performed in every great venue large or small across Canada.
He wrote the international song for UNICEF and has written songs with the late Gordon Downie, Ron Sexsmith, Serena Ryder, Broken Social Scene and many, many more. He's played with Lou Reed's band. He's making a movie with Tom Waits. He was the drummer/keyboardist/singer in legendary Dakota Tavern house band The Beauties. He played at Zack Galafanakis' wedding. He has a Juno. He has produced songs and albums for over 100 different artists and garnered top 10 rankings and critical acclaim all over the world. In the early 2000's the band he fronted, Grindig, had a top 10 single on Much Music. He was legendary songwriter Andy Kim's musical director for 15 years. He has played on The Late Show. He has played with Elvis Presley's guitarist. He met Bruce Springsteen after Bruce played his band on his podcast. He plays in an all-star country band. He grew up playing everything from punk rock to western swing. He composes music for film and television.
This just scratches the surface of Derek's inspirational career in music.
He will be bringing an entertaining assemblage of career spanning music and stories to this very special performance.
Tickets are $25 (all-in) and available at the Victoria Hall Box Office: 905-372-2210
**Patron parking for this concert only has been blocked off at the Firehall Theatre parking lot, directly behind Victoria Hall. You may need to move pylons to access this parking lot.
https://maps.app.goo.gl/Dqj73iuQFEyQqdDm7