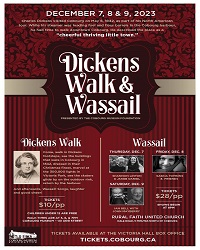 Wassail
When
Runs from Thursday December 7 2023 to Thursday December 7 2023
Approximate running time: 2 hours
Venue
Event Notes
×
Cobourg Museum Foundation presents: Wassail
Dates: December 7-9, 2023 at 8:00 pm
Venue: Rural Faith United Church, 7962 Danforth Rd W, Cobourg, ON K9A 4J7
Wassail Concerts:
THURSDAY, DEC. 7: SHANNON LINTON & JAKEB DANIEL
Shannon Linton and Jakeb Daniel are homegrown folk-pop artists who've played the Blue Skies Festival, Cultivate Launch, Hibernate and Cultivate Festivals as solo artists. For the better part of 2023, they have been developing, performing and writing music as a part of various collaborations. As a newly formed duo, Shannon and Jakeb create captivating energy and thrilling harmonies. They are looking forward to recording and touring together in 2024.
FRIDAY, DEC. 8: SASKIA TOMKINS, MARSALA LUKIANCHUK AND JUSTIN HISOX
Saskia Tomkin is a master musician of violin, viola, cello and Nyckelharpa, an educator, and a composer. UK born, she is classically trained with a folk background. Saskia's current personal projects include Steáfán & Saskia, MEDUSA, 2ish, Cáirdeas, and Marsala and the Imports. She frequently performs and tours with the JUNO-award-winning band Sultans of String. Saskia is principal 2nd violin for Quinte Symphony, and is in demand as an educator, including at Upbeat! Downtown Peterborough (an El Sistema programme), and music camps across Canada. Marsala Lukianchuk Whether singing with her jazz, rock, or Irish folk bands, or acting on stage or screen, Marsala's passion is in story-telling. Her other great passion is Christmas! Alongside Saskia Tomkins and Steáfán Hannigan, their traditional Irish folk band Caírdeas produced a Christmas album called "Christmas by Candlelight" which can be streamed on Apple Music, Bandcamp, and Spotify. Marsala welcomes this opportunity to share these beautiful melodies and messages of peace, joy, and love with you this holiday season.
SATURDAY, DEC. 9: IAN BELL WITH JOHN MAYBERRY
John Mayberry and Ian Bell present a garland of 19th. century seasonal songs, stories, and tunes from Upper Canada and the British Isles. From the pub to the parlour these pieces range from the familiar to the unexpected and will include plenty of opportunities to sing along. John and Ian will accompany themselves on concertina, guitar, button accordion, Scottish small pipes and various percussion instruments.
Ian and John have been performing in Ontario Museums for longer than they care to remember. They have presented programs of historical music at The ROM, Black Creek Pioneer Village, Upper Canada Village, The Gibson House, Montgomery's Inn and many other locations
Tickets are $28 plus service fee and available at the Victoria Hall Box Office: 905-372-2210